---
Valerie Huebner, DC
At the age of ten, I decided I wanted to be a chiropractor when I grew up. But by the time I started high school, I decided that it would be wiser to pursue a more respected field of health care. However, as college graduation grew closer, after years of volunteering and shadowing in hospitals and clinics, I still hadn't found a career in health care I wanted to pursue...so I joined the Peace Corps.
One of the many things I learned while in the Peace Corps was that I wanted science to be part of my future. I ended up pursuing a career in forensic science and spent seven years performing DNA and body fluid analysis for the Texas Department of Public Safety. During that time, I spent several years as a volunteer firefighter and EMT, and even joined the Navy Reserves. Eventually, I decided I wanted to help prevent very bad things before they happened, instead of trying to help after the fact, so I became a police officer in Dallas, TX. As an officer, it was very rewarding to spend my days arriving where people called for help, and being able to bring the resources to help with the worst moments of people's lives start to get better.
But I still felt like I spent my time trying to help after very bad things had happened, rather than being able to prevent them. It was then that I remembered my childhood dream of being a chiropractor. But this time, because of the experiences I had, the amazing people I had met, and the things I had learned, I was no longer dissuaded by how the most negative voices in medicine would speak about chiropractic. Instead, I saw a way to help people before surgery and narcotics became the only solution.
I saw a way to provide the reasonably-priced care that would enable me to act in the best interests of my patients, even when their insurance company didn't cover quality of life care. Additionally, having spent years fighting a health issue that my doctors weren't able to diagnose or treat, I know how it feels to be dismissed when you desperately want help, just because we don't yet have tests to define every problem that can impact health, and have therefore learned to deeply value and respect my patient's experiences.
I also know how valuable it is to get good health care when you need it and am very grateful to be able to partner with the medical community to get patients the care they need and work with insurance companies to cover health care many of us couldn't independently afford.
I'm very excited to now be able to live in beautiful Sitka and spend my days helping people regain and maintain the best quality of life possible.
Dr. Huebner has a BA degree in Biology and Crime & Justice studies from the University of Texas at Dallas, an MS degree in Forensic DNA & Serology from the University of Florida, and a Doctorate of Chiropractic (DC degree) from Texas Chiropractic College. She (and her sweet, spoiled dog Maggie) recently moved to Sitka where they enjoy hiking and kayaking. Dr. Huebner also continues to serve in the Navy Reserves.
---

Karen Zamzow, DC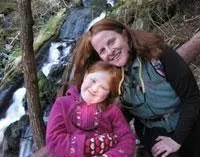 Dr. Karen and Abigail on a hike to Beaver Lake in 2009.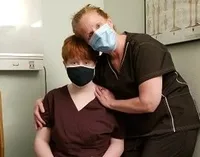 Dr. Karen and Abigail in 2020.
"Mom, What's a Chiropractor?"
That was the question I asked when a chiropractic office opened in the same professional building as our family's pediatrician. I was about ten years old, and already knew about different types of doctors and their specialties, but I had never heard of a chiropractor.
"Oh, they're quacks," came the reply. With all due respect for my mother, I thought to myself, "She must not really know." I knew well enough that my mom would have had a lot more to say if she had much knowledge about the subject. Ever curious, I resolved to keep my eyes open for more information on this thing called chiropractic.
Fast forward about eight years, my first year in college. Enrolled at the University of California as a biology major, I was looking into a career in health care. My interests lay in health and fitness, and also in the healing power of nature, so I had a few options. I considered midwifery and nutrition, herbalism, even teaching yoga, but discarded each possibility as either being too hard to make a living, not autonomous enough, or having hours too difficult for someone who needs to sleep at night.
Then, I discovered chiropractic. Through my research, I realized that here was a health care discipline which was science based, but honored the innate wisdom of the human body's own healing capacity above all else. This seemed like a perfect fit for me, but I still had never met a chiropractor, nor had any experience with chiropractic.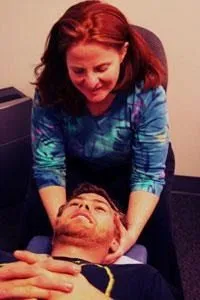 Dr. Karen performing a gentle neck adjustment then
Dr. Karen performing a gentle neck adjustment now
At the Crossroads
Next came the car accident. Driving home from UC Berkeley one rainy day, a kid in a Mustang ignored the stop sign. My Datsun was pushed across the yellow line and into the telephone pole across the street. Thank goodness I was wearing a seat belt, but that was when my back pain started. After a few weeks the pain didn't go away; in fact, it got worse.
On the recommendation of a friend, I made my first appointment with a chiropractor. The doctor's examination was the most thorough I had ever experienced with any health care provider. I could tell he was interested in finding, then fixing the cause of my pain. It made perfect sense to me, a mechanical approach to a mechanical problem. What could drugs do to fix a problem caused by colliding with a telephone pole?
After my first amazing adjustment, I was pain free.
My chiropractor then explained that pain is only one indicator of the condition of your body and that it takes time to heal damaged tissues. I wanted the damaged joints to heal as completely as possible with their proper motion and integrity intact, so I followed his advice of several more adjustments and simple home exercises over the next eight weeks. My injury healed completely, and I was sold on chiropractic. I had confirmed my calling, with the help of a little divine intervention in the form of a spacey guy in a Mustang.
My Education and Happily Ever After
As a biology major, I was already studying the basic sciences such as organic and inorganic chemistry, along with the physics and biology courses I would need for my entrance into the University of Western States in Portland, Oregon. During my four years at UWS, coursework included biochemistry, a major emphasis on anatomy and human physiology, X-ray, diagnosis, clinical nutrition, chiropractic adjusting techniques and patient care. Here was all the science my little heart desired, focused on helping people access the innate healing power and wisdom of the human body.
I graduated from UWS in 1995. Today, I love being a chiropractor more than ever. It is my privilege to have the opportunity to help people heal without drugs or surgery. Although I respect traditional medicine for its ability to respond to emergencies and certain specific health situations, I am a committed proponent of evidence informed natural health care.
As I'm fond of saying, "No one ever has a headache because of an ibuprofen deficiency."
I am deeply grateful for my profession and for the community of Sitka, where I have practiced happily since 1998. My daughter Abigail was born at home, was not vaccinated as a child, and has never taken a course of antibiotics. If you're curious about my personal health care choices or if that sounds interesting to you, please feel free to ask me about it.